Please place your order for either U.S. or International shipping based on your location.
Please note that due to Gary's touring schedule, there may be a delay in shipping autographed products. Please be sure to let us know if you do not want your product autographed. Autographs can be optionally personalized. If you wish Gary to personalize your autographed item, please indicate how he should do so in the "Personalize" field.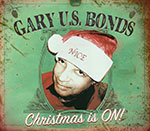 Christmas is ON! CD
Buy your copy of CHRISTMAS IS ON! personally autographed by Gary U.S. Bonds!
Makes no difference is you've been naughty or nice, 'cause it's a Gary U.S. Bonds Christmas! Either way, "Santa Gary" is coming down your chimney to start your party and he ain't leaving until he's had a cup of good cheer and a slow dance with your sister.
Track Listing:
1. Christmas Is On
2. Santa Claus Is Coming To Town
3. It's Christmas In Nu Awlins
4. We Wish You A Merry Christmas
5. Christmas Is A Phone Call Away
6. White Christmas
7. Santa Bring My Baby Home To Me
8. Why Don't You Spend Christmas With Me
9. 'Tis The Season To Be Lovin' You
10. Baby, Baby It's Christmas