Please place your order for either U.S. or International shipping based on your location.
Please note that due to Gary's touring schedule, there may be a delay in shipping autographed products. Please be sure to let us know if you do not want your product autographed. Autographs can be optionally personalized. If you wish Gary to personalize your autographed item, please indicate how he should do so in the "Personalize" field.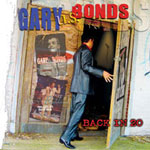 Back In 20 CD
Buy your copy of BACK IN 20 personally autographed by Gary U.S. Bonds!
Gary's first studio album in twenty years includes twelve tracks and features guest appearances by Bruce Springsteen, Southside Johnny, Dickey Betts and Phoebe Snow.
Track Listing:
1. Can't Teach an Old Dog New Tricks
2. Murder in the First Degree
3. Take Me Back
4. She Just Wants to Dance
5. Fanny Mae
6. Bitch/Dumb Ass
7. I've Got Dreams to Remember
8. Nothing But Blue
9. She Chose to Be My Lady
10. Too Much, Too Little, Too Late
11. Every Time I Roll the Dice
12. Don't You Do It Here