Please place your order for either U.S. or International shipping based on your location.
Please note that due to Gary's touring schedule, there may be a delay in shipping autographed products. Please be sure to let us know if you do not want your product autographed. Autographs can be optionally personalized. If you wish Gary to personalize your autographed item, please indicate how he should do so in the "Personalize" field.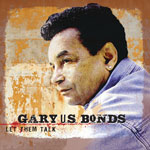 Let Them Talk CD
Buy your copy of LET THEM TALK personally autographed by Gary U.S. Bonds!
LET THEM TALK features 12 new tracks that capture all of Bonds' boundless energy and emotion with storming arrangements, blistering vocals and deeply-felt ballads that move you to your core. It is the classic Gary U.S. Bonds experience and we are all invited to the party!
Track Listing:
1. Whine
2. Pour Me
3. If I Live Through This
4. Let Them Talk
5. Get It Together
6. Have Mercy
7. I'm Gone
8. She's a Woman
9. I Got Love
10. I Forgot How Bad My Good Woman Could Be
11. Burden
12. Shake a Hand