Please place your order for either U.S. or International shipping based on your location.
Please note that due to Gary's touring schedule, there may be a delay in shipping autographed products. Please be sure to let us know if you do not want your product autographed. Autographs can be optionally personalized. If you wish Gary to personalize your autographed item, please indicate how he should do so in the "Personalize" field.
INTERNATIONAL ORDERS: Please include your phone number during PayPal checkout. Failure to do so will delay shipment and delivery of your order.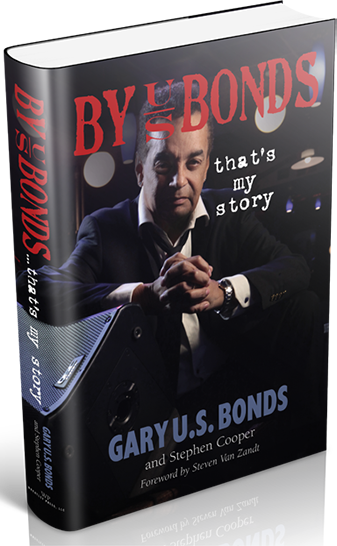 Gary's Autobiography: "By U.S. Bonds - That's My Story"
The book is a fascinating tale tying together the sometimes loose ends of music history, putting readers right smack in the middle of the early days of R&B and rock music. The foreword by Steven Van Zandt, guitarist for The E-Street Band, provides the perfect start. Also included are eighty photos selected by photo editor Mark Weiss from the family's collection.
Among the many stories, Bonds recounts memories of traveling with B.B. King and Sam Cooke, his first big break with Dick Clark, music hits "New Orleans" and "Quarter to Three," the real "Garden Party" with Rick Nelson, his humorous outing with Muhammad Ali and the "comeback" album.
U.S. Orders: $30.00
+ $4.95 s/h
International: $30.00
+ $8.95 s/h